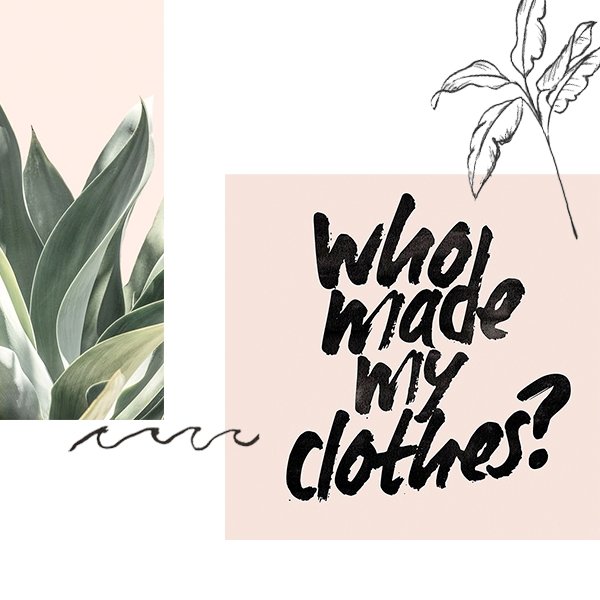 JOIN THE FASHION REVOLUTION
Hi everyone, it's Mary, founder of ocean+main!
During this unprecedented time, I wanted to say thank you from the entire team at ocean+main for all your kindness and support. This week feels especially poignant as we are celebrating Earth Day and Fashion Revolution Week where brands are asked #WhoMadeMyClothes?  We are thrilled Fashion Revolution has added a new dimension to their movement with #WhatsInMyClothes to bring attention to the ubiquitous use of plastics and other non-biodegradable, non-compostable fibers used in the industry today.   
Now, more than ever, feels like the time to reflect on how the choices we make, particularly our clothing choices, impact our world and the people in it. So, in the spirit of Fashion Revolution's #WhoMadeMyClothes initiative, there are some very special people at ocean+main I'd like for you to meet. Each year, Fashion Revolution shines a spotlight on fair wages, sustainable production practices and more transparency in the fashion industry. While this unintended 'breather' from business as usual has had its upside for the environment - reports of drastically improved air quality and revitalized water ways are truly a global phenomenon - garment workers have been hit hard by the pandemic with shuttered factories and cancelled orders. The silver lining? This break, and movements like Fashion Revolution, are allowing brands both large and small to reboot, to rethink their supply chain from top to bottom and make the environmental impact of this 'pause' permanent while putting the well-being of people first.
Like many small businesses, it's been a rocky road lately and we appreciate your patience and understanding. While our team is not currently producing new products, every purchase helps ensure they are supported during this time so ocean+main will be here now and in the long run. We are also taking advantage of every program out there - including community mask-making initiatives (more on that later) to help us get through this uncertain time. I am so grateful for both you and our positive, amazing team. Without them, there would be no o+m. They are the incredible people your choices help support everyday. They are #WhoMadeMyClothes and more.
Pok Mud + Azizi / Malaysia
Master printer, Pok Mud, has been hand blocking Batik since he was 18 and his son, Azizi, finishes the fabric that becomes part of our Malaysia collection.
Intan Suria / Kuala Lumpur
Founder + Creative Director Suria Artisan Batik
Suria's beautiful designs inspire our Malaysia collection and her work supports the TRCRC, a rainforest preservation initiative, as well as 3 artisan families in Malaysia.
Casey / South Carolina
Digital Marketing
Casey thoughtfully and skillfully guides our digital strategy so hopefully you hear from us just the right amount.
Gilberto / Los Angeles
Product Design + Production Manager
An absolute genius, Gilberto's design skills and down-right perfectionism is the true beauty behind each and every o+m garment.
Nicci / Los Angeles
Creative Content Director
Nicci's creative eye is the soul of o+m. Her unerring taste level and beautiful vision is what really brings o+m to life.
Giving Back
During this time, we have shifted our charitable giving to Meals On Wheels and No Kid Hungry. These vital charities ensure vulnerable populations have access to the most basic human necessity; food. By clicking the 'Donate Now' button on each product page, we'll take $20 off your purchase and the entire $20 will be donated to these amazing organizations.
Thank you to each and everyone of you.
-o+m
Leave a comment