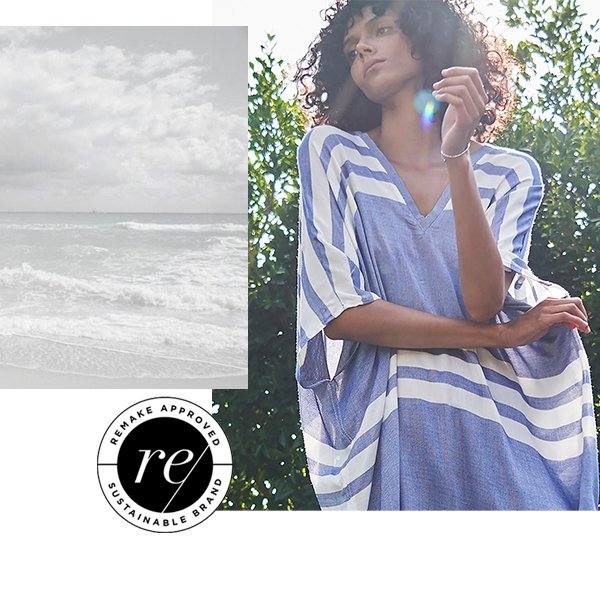 o+m Awarded the Prestigous Re/Make Our World Certification
Now, more than ever, we have an opportunity to re/make our world. 
We are thrilled to announce, after rigorous screening, that ocean+main has been awarded the prestigous re/makeourworld certification for our efforts towards a more transparent, sustainable and equitable fashion system.
What is re/make?
re/make Our World was founded by the intimitable Ayesha Barenblat after the devastaing collapse of the Bangladeshi clothing factory, Rana Plaza.  Known for its fast, cheap labor, the Rana Plaza builiding crumbled in 2013 killing over 1,100 garment workers inside and injuring over 2,500 more.  
In response, Ayesha garnered her vast resources to create an organization to insure disasters like Rana Plaza never happen again.  In addition to championing fair labor practices, re/make Our World is dedicated to focusing brands and consumers on doing better for both people and planet.
In order to receive the re/make seal, re/make examines a brands entire operation from top to bottom including supply chain transparancy, product traceability, worker well-being, water stewardship, packaging sustainability, materials sourcing, labor practices, community outreach, and more.  
Once a brand receives the seal, customers can shop with confidence knowing the brands labor and sustainabilty claims have been fully vetted and are not elaborate 'greenwashing'.  
Six Sins of Greenwashing
We're using our purchasing power, our voice, and our creativity to make the invisible women who power the fashion industry visible. We are committed to breaking up with fast fashion and have taken the pledge to buy better, remaking our closets with clothes that respect women and our planet.  - re/make, 2020
Wear Your Values
Follow #WearYourValues and #ReMakeOurWorld to join the conversation and thanks @ReMakeOurWorld ! 
We are so proud of your endorsement and are thrilled to provide our customers another level of trust. 
Leave a comment