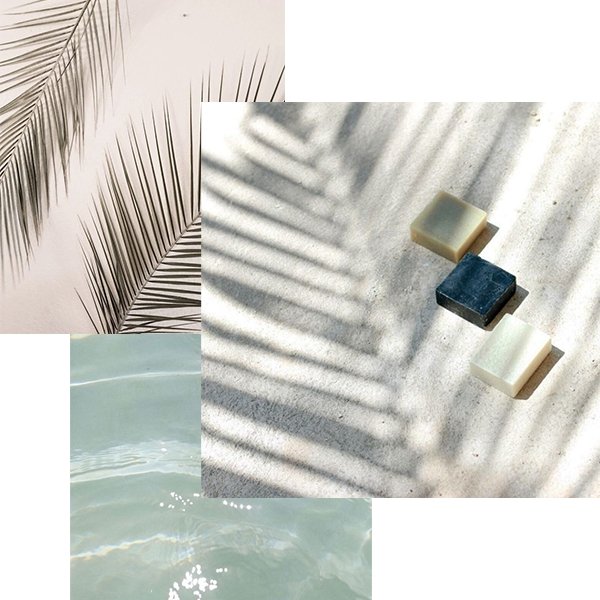 Plastic-Free Life Hack - The Shampoo Bar
 Our global plastic pollution problem isn't new news, but thanks to events like PlasticFreeJuly.org, there are more ways than ever to be part of the solution.
After watching 180 Billion (yes, that billion with a 'B') single-use plastic bags get tossed in the bin every year by the apparel industry (Eeww), plastic-free became one of the founding pillars of ocean+main.  Since our inception, we use no plastic in production and no single-use plastic shipping.   All product shipped from our site comes in a cloth bag that is 100% cotton, recyclable, sustainable, reusable, and, well, cute. 
When we started to look at the other places in our life where plastic is ubiquitous, the glaring call out was the bathroom.  All those potions, lotions and soaps cluttering our space were in one-and-done, headed-for-the-landfill bottles.  It was time to take action. 
Image courtesy of No Tox Life. 
Step 1: Replace all our single-use plastic containers with refillable glass jars and bottles (Google "zero waste beauty store" to find a specialist near you). 
But the shower?  That presented its own set of unique challenges. 
We've been so conditioned (pun intended) that quality shampoo and soap must come in a luxuriouly packaged, overly-scented liquid form.  A bar?  For you hair?  No way.  Too gummy, too sticky, too hard to use, won't get sudsy, not right for my hair type, the list of assumtions are as long as Erykah Badu's braids or Rapunzel's locks. 
Image courtesy of Unwrapped Life. 
Step 2:  Enter the shampoo bar.

  
After much trial and error, we landed on three bars that deliver salon quality results.  No plastic bottles, no harsh chemicals, only great hair.  Thanks to these beauties, we are saying farewell forever to bottled shampoos and conditioners. 
 
Image courtesy of Unwrapped Life. 
Unwrapped life
Bars from Unwrapped Life leave no tacky, sticky residue and offer plenty of suds with none of the toxic ingredients or packaging.  With amazing scents and salon worthy quality, these bars work.  And, they last forever.  They even offer metal travel tins so your bars go where you do! 

Image courtesy of Bask and Bloom. 
Bask and Bloom
Founded by Bahamian native, Candera Thompson, Bask and Bloom's clay and honey shampoo bar is the real deal.  If squeeky clean and silky soft sounds like what you need, look no further. This one lasts FOREVER, and, as a bonus, it doubles as a facial soap.  Curly hair, don't despair.  This one is for you!  
 
Image courtesy of No Tox Life. 
NoTox Life
 LA-based, zero-waste, No Tox Life, features refillable bottles and eco-friendly potions for all your bathroom needs.  Their shampoo and conditioner bars leave your hair soft and managable without the residue.  Definitely buy the shampoo 2 to 1 over the conditioner as the conditioner lasts longer.
Up next, we tackle plastic-free alternatives to our cleaning, laundry and kitchen needs. 
Do you have any favorites?  We'd love to hear!
- o+m
Leave a comment