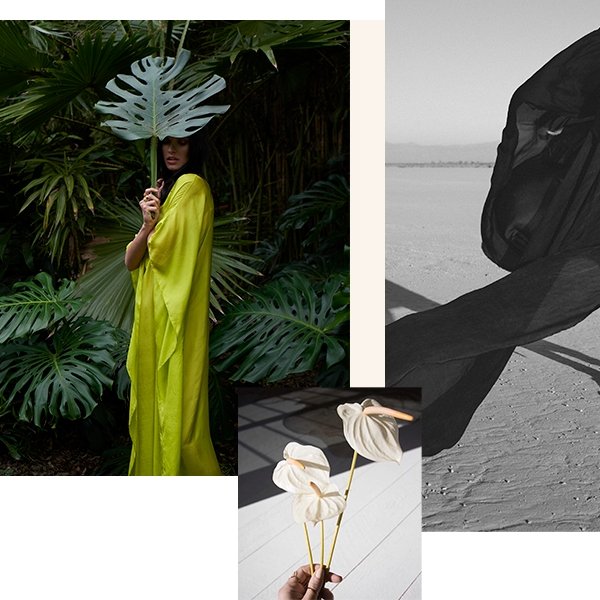 At ocean+main, we are big fans of silk (obviously).  We love it's drape and luxurious hand-feel, and the fact that it is natural, biodegradable, breathable and, well, durable. Silk gets a bad wrap for being precious, but let's face it, any fabric used to make parachutes once upon a time better be pretty strong. 
Why are your silk caftans different prices? 
We are often asked why our silk pieces, even in the same style, are different prices. Well, it all comes down to the weight and weave.  The unit of measurement for silk is called a momme (pronounced 'mummy').  When you see silk described as 8mm, 16mm, etc, that 'mm' stands for momme.  Originating in Japan, the momme count, similar to thread count, measures the density and weight of the silk thread.   The higher the momme, the heavier and denser the silk.  Different weaves and different weights have different properties. 
Let's break them down. 
Silk Habotai
Silk Habotai is the lightest weave of silk. This soft, matte finish fabric was originally used as a lining.   Eventually, it's smooth finish and floaty hand became a hit for garments themselves, and in 8 mm to 12 mm, this sheer, very flowy silk is 100% washable and perfect for caftans. 
Crepe De Chine(CDC)
 Crepe De Chine is a traditional 'crepe' weave and gives a matte finish to the fabric.  Crepe is achieved when fibers are slightly rippled, giving the fabric a more condensed feel.  Still drapey and luxurious, we use 12mm to 16mm CDC and love its clean, modern, un-shiny finish and the fact that it is not see through at all.  To properly care for this fabric, either hand or machine wash, lay it flat or hang to dry, then iron the garment inside out on low heat. 
Georgette
 Silk Georgette is a super luxurious and soft silk most frequently available in sheer weights.  We don't use it often, but when we do, we use double georgette as it is less see-through than its single-ply counterparts.  Still washable, georgette is slightly more delicate than other weaves.
Silk Charmeuse 
 Think pillow cases, pajamas and 1930's ball gowns, this dense, elegant shiny silk is what most people think of when they think 'silk'.  Another signature of charmeuse is it is shiny on one side, matte, like a CDC, on the other.  We typically use 16 mm to 24 mm charmeuse and love its drape, sheen and opacity.   We absolutely adore washed charmeuse.  Water softens this fabric even more and takes a bit of the shiny luster away making it's polished elegance easy and wearable.  
Cupro
Although it's not silk, this drapey, luxe fabric it is often referred to as 'Vegan silk' or "Poor Man's Charmeuse".   Like habotai, cupro was originally used as lining and it is a favorite at o+m for many reasons.    Made from the stalk and leaves of cotton plants that are normally discarded in traditional cotton production, cupro is repurposing, upcycling and reusing at its best.   Weighed in grams not mommes, cupro feels like silk but can be worn, washed and cared for like cotton, because, well, it is cotton.  We love it's luster, velvety hand-feel and opacity.  Like charmeuse, most cupro isn't see-through in the least.
Our goal at o+m is to make mindful production choices every day.  Choosing to make, wear and upcycle silk is our attempt make beautiful choices and (we hope you agree) beautiful garments in the process.  
Leave a comment