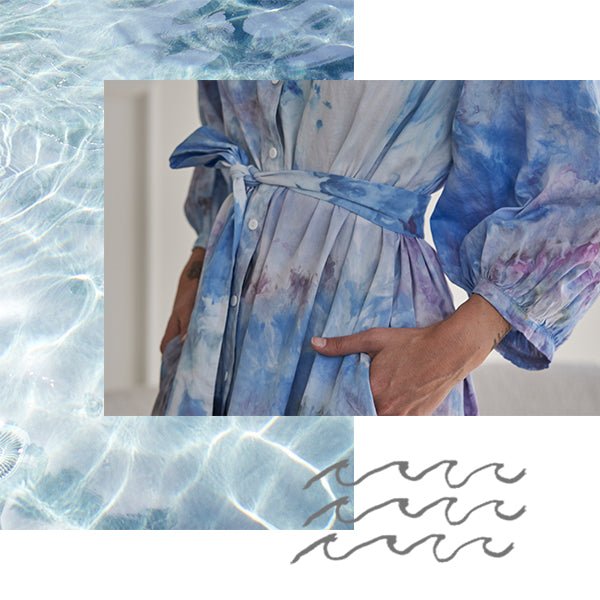 An interview with Peri Donch, LA artist and recent o+m collaborator
WE ARE SO HAPPY ABOUT OUR COLLABORATION AND WANT TO SHARE A BIT ABOUT YOU WITH OUR COMMUNITY. WHERE ARE YOU FROM ORIGINALLY? WHAT DID YOU THINK YOU'D BE WHEN YOU GREW UP? WHAT IS YOUR GREATEST LOVE IN LIFE? AND ANYTHING ELSE YOU'D LIKE TO ADD! 
I grew up in the small down of Los Gatos in norther California. I was very fortunate to go to a highschool that had an extensive arts department where I studies jewelry and ceramics and other arts. As well as my parents were both very creative, so my 3 sisters and I were always doing creative projects. During the summer months, my mom would set us up with sewing projects and when we went to the fabric store – I was in heaven, touching all the different fabric textures and finding color inspirations. 
Los Gatos is set in the foothills of the Santa Cruz mountains and nature is all around. My friends and I would hike the hills after school or drive "over the hill" to Santa Cruz and explore the beaches.
I LOVE nature; the woody hills of northern California, the sharp hills of southern California, the beaches, the desert still life, the cities. I would probably call myself a "modern hippie".  
BEFORE STARTING PERI THE LABEL DID YOU HAVE A DIFFERENT CAREER TRAJECTORY? IN OTHER WORDS, WAS THIS A BIG PIVOT FOR YOU, OR A NATURAL PATH? 
I went to school in San Francisco for psychology, but when I made the move to LA, I looked at the back of LA Weekly and saw an ad for American Apparel – I wanted to work there, I liked the idea of Made in LA and supporting the sustainability of the clothing manufacturing industry – within two weeks I was working in their sales department and I moved up and on from there. I have worked for several local fashion brands in Los Angeles, in development and production and am proud to say – all of the brands I work for are sustainable and ethically made.
AT THE BEGINNING OF PERI WAS THERE ANOTHER CREATIVE ENDEAVOR THAT LED YOU TO WORKING WITH GARMENTS AND FABRICS, OR WAS IT A STRAIGHT LINE TO YOUR UNIQUE HAND-DYE PROCESS WITH CLOTHING?
I took my first dye class 7 years ago and started playing with colors and dyes; both natural dyes and low impact dyes. Then started PERI: Pure Eco Rag Industry. It was important to me to create a brand that is sustainable, ethical and fiercely creative. The shapes of the dresses I design come from vintage designs, with the echo of 60's leisure caftans. I use these as my blank canvas, much like a painter.
CAN YOU TELL US A BIT ABOUT YOUR PROCESS? DO YOU HAVE ANY FORMAL DECISION MAKING FOR CHOOSING THE COLORS/DYES THAT WILL GO ON EACH PIECE?
My color choices are inspired by the 4 elements: Water, Earth, Fire, Air – and also nature's landscape. It has such beautiful sunrises and sunsets, they are a huge source of inspiration, you can see early sunrise in my AIR colorway, and the Angeles Forest in the URTH dyework, and the coastal desert of Baja California in DESERT COAST. I test the colors on fabrics I use and swirl them together, until I have that feeling of watching the sunset – that feeling that makes you take pause. The feeling of awe.
WHAT WOULD YOUR DREAM COLLABORATION BE OUTSIDE OF THE FASHION INDUSTRY? 
Over the years I have partnered with cafes, restaurants and a few other brands. Dyeing for ocean+main has been an organic collaboration. Mary and her team are an encouraging delight. Dyeing a Halston original silk caftan would be a DREAM collab for sure...WOW!
THANK YOU SO MUCH! THIS HAS BEEN SO INTERESTING TO SEE HOW YOUR ARTISTIC JOURNEY HAS TAKEN SHAPE. HOW CAN WE BEST FOLLOW ALONG ON FOR THE FUTURE? 
Leave a comment