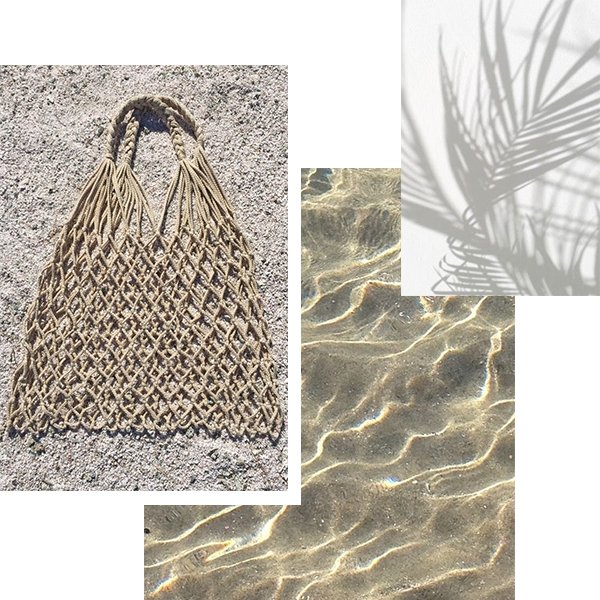 The Perfect Market bag from LA Burro Studio
We all have that friend who just 'gets it'.  That friend whose immpecable taste transends time, trend, and age.  A tastemaker who doesn't follow the zeitgiest, she creates it.  That friend whose impossibly cool style has you wondering if you need to discard your entire closet Marie Kondo-style.  
Our tastmaking friend is Ary Park, founder of LA Burro Studio.  After years as a clothing designer, jet setter and all around cool-girl, she has launched a new passion, a sustainable market bag under her LA Burro Studio label.
Why do we love Ary?  Read on to find out...
o+m:  What got you interested in creating/art/design? 
Ary:  I studied graphic design, photography and TV production in college. My first job out of NYU was working at Saturday Night Live.

 

From there, I worked as a television producer for fifteen years.
 When I got married and had a baby girl, I wanted to harness my creativity and started designing children's wear.  Dress making and designing have been a lifelong passion and I taught myself how to sew when I was eleven years old.  Even during my television producing years, I sewed in order to relax and do something creative with my hands.  My children's wear business grew very nicely, as did my daughter,  for over a decade!
o+m:  Are you still desiging your childrens collection?
Ary:  Witnessing the rise of fast fashion and super consumption has led me to pivot away from manufacturing children's clothes.  My focus and priority moving forward is to make and support sustainable, responsible, and slow crafted products. I love all things hand-made. I think there is no better way to share our collective human experience.
o+m:  How was La Burro Studio born? 
Ary:  La Burro Studio is all about being slow, deliberate and thoughtful in both the creative process and the making process. The idea of the loyal and indespensible burro, or donkey, with it's
 intelligence, strength and keen sense of curiosity really appealed to me.  This hard working companion has been humankind's dutiful helper for thousands of years and I love the idea of creating products that have purpose and longevity, like the faithful burro. 
o+m:  Why is the market bag your first product?  
Ary:  My family and I love to travel and

 l

earn about local materials, local crafts and the people who make them.  
During a recent trip to Italy, we visited a small, quiet fishing village.  In the modest town museum, they proudly displayed the villages long tradition of expertly made, hand-crafted fishing nets. 
 For over half a century, these family-own workshops produced the most sought-after fishing nets in Italy.  I visited one of these workshops and fell in love with a beautiful, simple, hand-made macramé bag they had woven from left over cording.  I loved that they were so simple, the colors so vibrant, and, that they are crafted by hand one knot at a time.  And, since they are made from excess fishing net cording, there is zero waste to make and weave each bag.   I brought one back from Italy and almost immediately, people started asking where I got my bag.
o+m:  What is your favorite use for the bag?
Ary:  l love the bright, cheerful colors and versitility of these bags.  I carry it as my everyday bag with my clutch inside for a relaxed bohemian vibe.  It folds down easily so you can carry it as an extra bag for market shopping and it is perfect for the beach.  It surprises me how much it holds!
o+m:  Do you sell your bags anywhere besides www.oceanandmain.com?  
Ary:  Soon!  For now, o+m is the perfect place to launch LA Burro Studio.   I really wanted to align the brand with partner in the sustainable space and I really admire o+m's commitment to slow, thoughtful production and it's sustainable practices. Here's to cleaner, better living and preserving what is most beautiful to us, Mother Nature.
o+m:  Thanks, Ary!  We are so proud to be a small part of your next creative venture!
Leave a comment