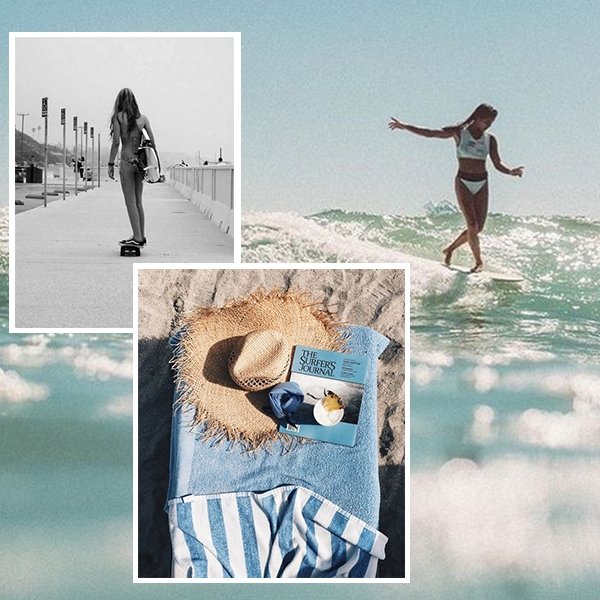 Surfing Safari - From Bali to Baja, the Best Surf Schools for Women
"Chick with Sticks," "Gurfer," there is no shortage of surf lingo for female surfers.  We prefer to keep things simple.  And gender neutral.  How about just "surfer."  
It's no surprise as ocean lovers, we love to paddle. Whether it's riding the waves on a short board, keeping toes-on-the-nose on a long board or cruising on a paddle board, we encourage everyone to embrace the joys of the sea.  Besides an exhilerating ride, there is a peaceful joy between swells waiting for the next wave - the gentle rise and fall of the ocean, the graceful glide of sea birds over the water and, for us, watching the waves break from the other direction is a beautiful, perspective-altering experience.  
So, if you have the urge to ride, here are a few great places near and far to learn to love the waves.  
Surfing? Check. Yoga? Check. Bali? Double Check. Female only? Yes!
This luxe resort is the destination in Indonesia to learn to surf.  Located on the quiet sands of Seminyak, the long gentle shore break and friendly, understanding instructors will have you up on your board and surfing in no time.  After a day of paddling, on-site massage therapy and surf-inspired yoga await.  Add in amazing local cuisine and you may never leave.
Pura Vida Adventures - Costa Rica 
For years, Costa Rica has been ground zero for both surfing professionals and beginners.  Located on the wide coastline of Santa Teresa, Pura Vida Adventures offers both female-only and co-ed surf camps.  If you can pull yourself out of the bathtub-warm water, you can enjoy daily yoga, spa treatments, and zip-line tours.  Or, simply relax in your hammock and listen to the call of the howler monkeys as they play in the lush jungle at the edge of the sand. 
 Surf House - Encinitas, California
Brothers Sander and Nikki Harth have transformed a rundown motel on Highway 101 into Surfhouse, a chic eight-room boutique hotel with surfing at its core. Call it 'upper Baja',  the hotel is two blocks from surfer-friendly Beacon's Beach in Encinitas, California, the hotel offers lessons, complimentary access to their collection of surfboards and beach cruisers, and weeklong camps that get you out on the water and out on the town.
Kauai Surf School - Kauai, Hawaii
Named for it's picturesque beauty, Kauai is known as the 'Garden Island' for it's stunning green cliffs and lush rain forests.  If natural beauty isn't enough to lure you to this Hawaiian paradise, Kauai Surf School just may do it.  
With access to five surf breaks on Poipu Beach, Kauai Surf School caters its lessons to every level of surfer. The snorkeling-friendly water, plus the stunning backdrop of beach cottages and lush gardens, doesn't hurt, either.
Shameless plug:  Looking for the perfect, comfortable and chic post-surf outfit?  An ocean+main tunic will do just fine, thank you. 
Surf's up!
- o+m 
Leave a comment