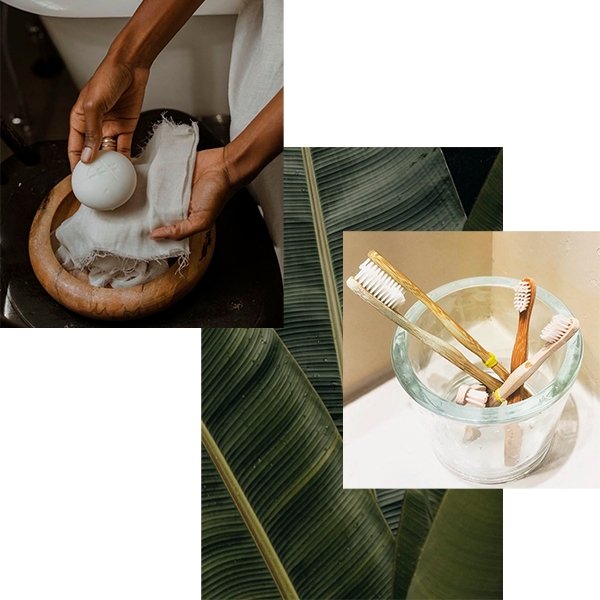 Our Plastic-Free Beauty Routine
It's time to break up with plastic. Just like your ex, plastic finds its way into every part of your life which makes splitting up even harder. 
We know this pain and have been striving to do better for our planet with our daily decisions, starting with our beauty routine. Take it from us, we all need to ditch that toxic-for-the-planet ex. 
Bites
Over one billion tubes of toothpaste end up in our landfills every year which is way worse than a bad case of morning breath. Bite toothpaste bits are vegan and cruelty free. Your first order arrives in a reusable jar, the refills arrive in packs. Bite down on a bit, brush and smile knowing you helped reduce the plastic going to landfills.
Bamboo Toothbrushes
Whether you relied on toothbrushes from the dentist or replacement heads for your electric toothbrush, we have all committed this plastic sin. Enter our favorite replacement: the bamboo toothbrush. Who knew sustainably harvested bamboo could look so good? WooBamboo offers both kid and adult sized brushes in zero waste packaging. Dentist approved, mother nature recommended. 
Biodegradable Floss
Flossing used to be a mindless thing until *shocker*, we realized a plastic product housed in a plastic container is bad news. Lucky Teeth is our favorite vegan bamboo floss. There are multiple flavors available and the floss ships in a reusable container. They offer both picks and silk floss and everything is biodegradable!
Stainless Steel Razor
Disposable razors are one of the many things from our past that make us cringe. Investing in a stainless steel razor is our new coming of age ritual and the Eco Roots safety razor is our pick. The razor comes in a rose gold finish and includes five free replacement blades. Time for a guilt-free shave that will leave you silky smooth.
Body Stone Moisturizer
One of our biggest challenges to a plastic-free bath and beauty routine is body lotion.  With no solution in site, those giant plastic vats of very necessary body moisturizer have been mocking our plastic-free journey for years.  Enter Kate McLeod's solid moisturizer stones which soften with skin contact and glide smoothly over the body for a supple glow. With five fragrances, there is something for everyone. We recommend the mini sampler set to find your favorite scent! Finally, goodbye forever to space wasting, plastic consuming bottles of body lotion!
Recycled Toilet Paper
Wiping your bum with 100% recycled toilet paper feels way better than the stuff you buy at the store, trust us. Not only that, but 50% of your purchase goes to help build toilets for people in need. No inks, dyes or prints and it's wrapped in recycled paper, there are so many wins here I am losing count. Who Gives A Crap (yes, that's really their name) is changing the toilet paper game and we are excited to be a part of it.
No matter how many times plastic calls or begs for us to take it back, we are kicking it to the curb! What is your favorite plastic-free alternative in your beauty routine?
Leave a comment