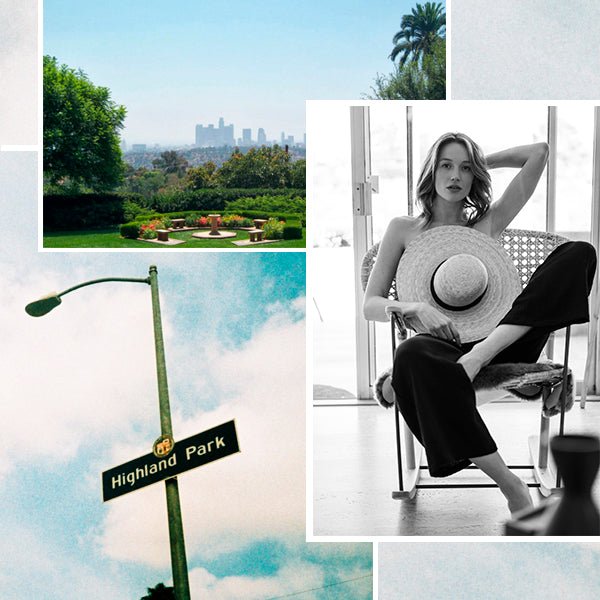 Highland Park, your new favorite neighborhood - Los Angeles Locals
For this installment of "Los Angeles Locals", we take you to the East Side, or East Los as the insiders call it, to the lesser known, but historically rich neighborhood of Highland Park.
First inhabited by Chumash Native Americans in the 1700's, and later by the Tongva Tribe, Highland Park was officially annexed as a part of Los Angeles in 1895.
(Image of Chumash musicians via Wikipedia)
Home to artists and intellectuals over the years, Highland Park has recently been over shadowed by it's trendy neighbors to the east, Silver Lake and Echo Park.   Now experiencing a revival of its own, 
here's what we found to 
eat, love, drink and do in
Highland Park
.  
Settled in the serene hills of Mount Washington, the Self-Realization Fellowship is a beautiful garden oasis with a breathtaking view of the city.  Like its sister properties (there are 18 Self-Realization Fellowships all over LA), these centers provide a quiet respite from city life and host a myriad of classes and events focused on meditation, yoga and spiritual growth.   This stunning nature preserve (bonus note:  it's free to the public!) hosts meditation gardens, quiet tree lined nooks and the sweetest little water fountains you could imagine.  Whether you go for a quiet walk in the gardens or just for the view, this gem is not to be missed. 
(Image via Hadley Meares)
Drink/eat:
This modern Beer Garden and brewing company allows you to bring eats from outside, but disclaimer, you must be 21 years of age to enjoy the scene.  
Get there early to enjoy the GIANT shuffleboard before the crowds descend.
(Image via @blockpartyhlp on Instagram)
Check out Triple Beam Pizza, the new brainchild of Nancy Silverton (yes, THAT Nancy Silverton of Mozza, La Brea Bakery and Campanile fame) and Matt Molina of the Everson Royce Bar.  We visited during the opening weekend so the lines were a little long in anticipation of the delicious roman style fare - but worry not, they made sure to bring out plenty of free snacks in the form of warm dough bites and small glasses of wine to hold us over.  Triple points to Triple Beam for making sure patrons don't get hangry waiting for their table!  Rather than choose by the slice, at Triple Beam you choose by weight which means you even select the amount of dough you want in your pie!  Nancy, you've upped the pizza game once again!
https://www.instagram.com/triplebeampizza/
Do:
 Highland Park Bowl, LA's oldest bowling alley, is steeped in history.   Established in 1927 during prohibition, original patrons would visit the bowl and it's in-house doctor for "prescriptions" of medicinal whiskey which were conveniently filled at the pharmacy/bowling alley on the bottom floor.  In 1933, a music venue was added to provide full service entertainment.   In 1966, an Italian immigrant named Joseph Teresa purchased the building, and, with the intent focusing solely on the musical offering, concealed the bowling alley all together.  It wasn't until years later that the original bowling alley was re-discovered and refurbished into the Highland Park Bowl it is today.  Note:  food and booze are available, no prescription necessary.
(Images via Highland Park Bowl website below)
Leave a comment