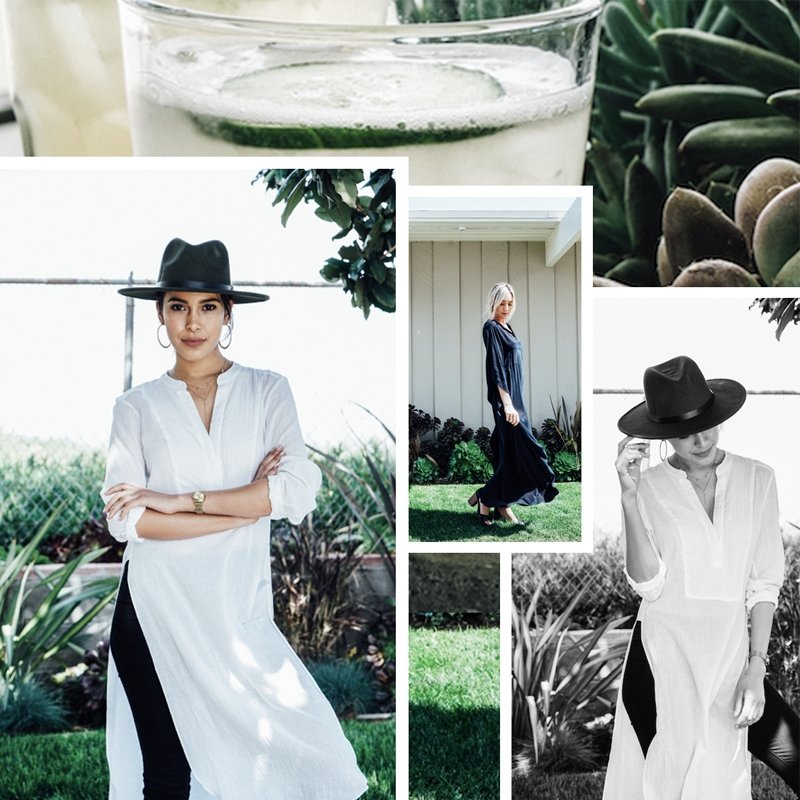 Tunics + Tequila: Tequila Herradura X ocean+main Festival Gifting Suite
Tunics? Tequila? Festival season? Yes, please.
We recently teamed up with our friends at
Tequila Herradura
 to help our favorite bloggers get festival ready. We spent the afternoon by the pool with delicious tequila infused cocktails, nibbles from
Loteria Grill Hollywood
, and of course, plenty of ocean+main tunics and caftans. 
 Cucumber Mint Tequila Tonic
1 cup of sugar
1 cup of water
1 cup of fresh mint leaves
1 cucumber
3 ounces of tequila, reposado (we recommend Partida or Don Julio)
½ lime, juiced
Ice
Mixing directions:
In a saucepan over medium heat combine water and sugar. Allow the sugar to melt, making simple syrup. Add the mint leaves. Remove from heat and let cool. Leave the leaves inside the syrup. Reserve.
Peel and muddle the cucumber, then strain to remove the pulp.
In a cocktail shaker add cucumber juice, tequila, 3 ounces of mint-infused simple syrup, lime juice, and ice. Shake and pour into a salt-rimmed rocks glass. Garnish with a slice of lime and a few fresh mint leaves.
Coconut Water and Jalapeno Tequila Cocktail
2 tbs.
sea salt
4 oz.
coconut water
2 oz.
Tequila Herradura
2 oz.
limeade
1
lime, sliced
Ice cubes
1/2
jalapeno pepper, sliced (optional)
Mint sprigs to garnish (optional)
Mixing directions
Rim glass with lime; invert glass over plate of sea salt. Combine coconut water, tequila, limeade, jalapeno and ice cubes in glass jar. Seal and shake vigorously, about 20 seconds. Pour into glass with fresh ice. Garnish with mint.
Whether at home or away, we hope you enjoy your own festival season! 
Leave a comment