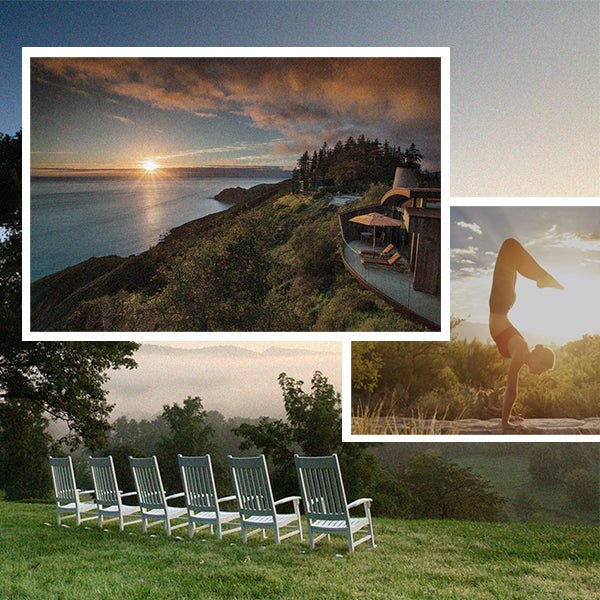 Time to Getaway - Our Guide to the Best Wellness Spas
Self care is one of the most important things we can do for ourselves. The more we are at peace internally, the better we are towards those around us.
In the spirit of self-love, we rounded up a few of our favorite Wellness Spas in the United States.
 POST RANCH INN
Located in the beloved and truly beautiful community of Big Sur, CA, The Post Ranch Inn boasts 39 rooms that have panoramic ocean or mountain views, each with their own architectural excellence.  This "sanctuary for the soul" is sure to help re-calibrate your energy and give you much needed relaxation.
Enjoy yoga in the on-property yurt, an in-room massage or relax by the fireplace in your private room.  You may never want to leave once you sleep in one of their Royal- Pedic all natural beds.  Based in Southern California, these beds are custom made for celebrities and royalty alike using no chemical products, so no off-gassing.  Perfect comfort, perfect sleep. 
Not to be missed is a dip in the perfectly heated, 104 degree natural hot spring soaking tub perched on a cliff high above the rugged Pacific.  Cares melt away as you listen to the sea lions call from the beach below, watch whales on their annual migration along the California coast and marvel at the recently released, near extinct California Condors as they glide along the cool coastal breezes.  
Ventana
Another Big Sur gem, Ventana is a super lux property featuring both tradition to non-traditional spa treatments with options like chakra clearing and aura reading.  The recently added Glamping option allows you to enjoy the magic of Big Sur's natural beauty in a cozy tent tucked among California's famous Redwood trees.   But fear not, for more traditional travelers, Ventana also has incredibly modern guest rooms, each with their own twist of charm.
 Canyon Ranch
With locations in Tucson, Arizona, Lenox, Massachusetts, Las Vegas, Nevada and at sea, you can be sure to find an experience that is right for you.  Since 1979, the award winning Canyon Ranch spa has taken an integrative approach to Mind, Body and Spirit wellness. 
From healthy eating options, to stress managment skills, the staff at Canyon Ranch hopes to provide tools to help you continue your healthy journey beyond your stay.  
Blackberry Farm
This one is for the farm lovers.  One of the most celebrated, luxurious, yet intimate, hotels around, Blackberry Farm is nestled in a pastoral estate in the Smoky Mountains in Walland, Tennessee.  In addition to traditional spa amenities,  Blackberry Farm offers everything from fly fishing to "Farm School", a program dedicated to teaching the philosophies and techniques of healthy gardening.  This one might be our favorite spot due to it's unusual activities and secluded location.  
We always love to hear from you - if you have any travel recommendations please send them to info@ocean-and-main.com for a chance to be featured.
- o+m
*All photos are owned by their respective sources, no copyright infringement intended
Leave a comment