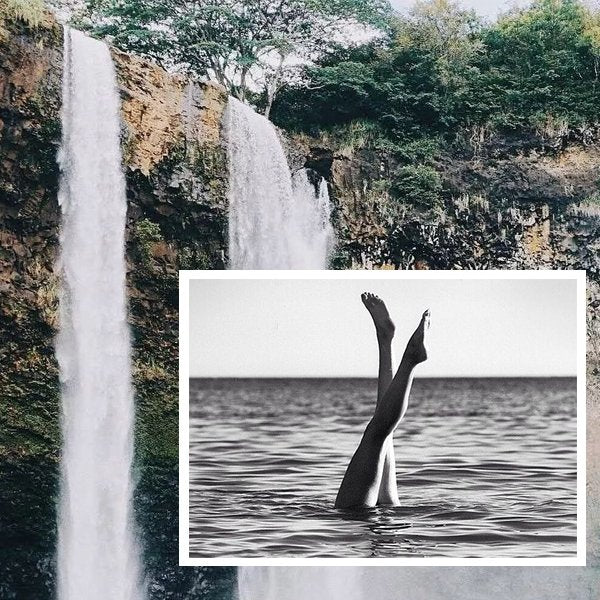 Don't Freak Out - 3 Unique Ways to Clear Your Head and Calm Your Nerves
We've all been there. Over-worked, over-tired, over-stressed, over-whelmed. When a beach isn't near (our default decompression of choice), breathing techniques aren't enough or a hot bath just isn't available, here are some tried and true methods to bring some peace back into your space.
Inversion
That's right; get upside down. Getting upside down is our quickest way to reset. Inverting yourself will increase both the blood and oxygen flow to your brain which helps produce endorphins, the chemical that acts like a painkiller and helps reduce stress. Being upside down also improves flexibility and reduces back pain and moves blood to your lungs to improve breathing.
The best part is it's easy.  There is no need to be a yoga-pro, getting upside down is as simple as bending over and reaching for your toes.  It does't matter how far you get, the goal is to get your heart above your head and beathe.  Simple inversions included sitting in a chair with your body draped over your legs and your head relaxing towards the floor, laying on your bed with your head over the side, or, laying on the floor with you feet up the wall.  For more advanced moves, try inversion yoga, like headstands, handstands, or shoulder stands.
Time is irrelevant.  Even 30 seconds upside down will help reset your system. A good rule of thumb is if you feel like you need to stop, then stop. When practicing inversions, practice care. People with cardiovascular disorders or who are pregnant should avoid inversion because it stimulates the cardiovascular system, and, certainly don't try a handstand if your not familiar with the practice or haven't done one since grade school.
So go ahead! Get upside down!  It will give you a whole new perspective in more ways than one.  
"Weightless" by Marconi Union
Music soothes the soul, as they say, and meditative music is nothing new, but the group Marconi Union has taken it a step further. Collaborating with sound therapists, they have created an experience meant to slow your heart rate, reduce anxiety and lower the levels of stress hormones in your body. Coupled with this hypnotizing video, we say mission accomplished.
This is the perfect meditation track, so listen with caution. Ensure you are in a safe  place where true relaxation is just a pillow away.
While 'Weightless' is a current Internet darling, there are loads of other songs meant to reduce stress.   Find your playlist, close your eyes, and enjoy.
Forest Bathing
You may call it a walk in the woods, but in 1982, the Japanese re-branded it as "Forest Bathing" for good reason.  Also known as "forest therapy", a walk in the woods is not only calming, but it is scientifically proven to be good for your body.   That fresh, clean smell that surrounds you is actually phytoncides, a compound found in plants that helps protect them from harmful bacteria. The phytoncides travel through the air and into your body where they aid in cell repair and improve cell regrowth. It is true aromatherapy direct from the source.
Close that laptop, leave your phone at home, and find some trees.   Breathe deep, stay for hours and maybe give one of them a hug.
Do you have a favorite way to clear your mind and calm your nerves? We'd love to hear!
 -o+m
Leave a comment